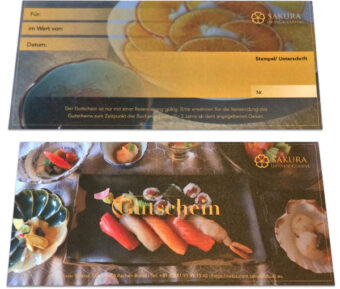 Sakura has been offering vouchers for some time now. You can either pick them up at the restaurant or receive them by post. Unfortunately, online purchase is not possible.
Please let us know the amount you would like to pay. If the voucher is to be sent by post, we need the name and address of the recipient. We charge an additional 3€ for shipping.
Payment can be made in the restaurant (cash or card) or by bank transfer. Please indicate the desired addresses for the voucher and the invoice. The voucher is valid for three years after receipt of your payment from the date of issue.
The voucher will be issued after confirmation of payment.
Bank details
Sparkasse Aachen
IBAN: DE 54 3905 0000 1072 1460 44
BIC: AACSDE33XXX
Application form for Voucher
*=Required