Course meal "KOTOBUKI"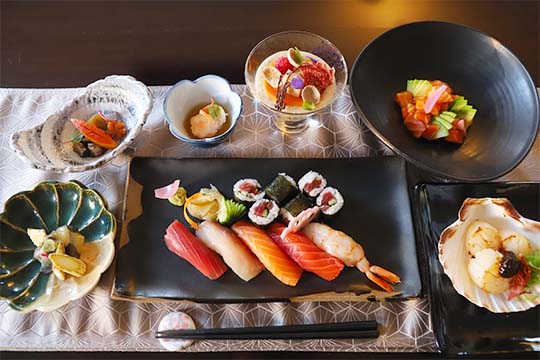 The Kotobuki course menu is the most famous choice of our menu card It offers a special insight into the japanese cuisine and can be adjust individually to everybody's own preference.
Our server are happy to help you to arrange the perfect Kotobuki menu for you.
For our vegetarian guests:
We look forward to being able to offer you a vegetarian version of the Kotobuki menu in our restaurant in the future. Please contact us at least three days in advance and let us know whether you want 4 or 5 courses. We will then prepare a selection from the chef for you.
Wagyu price list (EN)
***If you are interested in our current Wagyu Beef price list, please contact us.***
Attention
Kotobuki menu has to be ordered at least 1 day in advance.
We also ask that you let us know your preferred starter, appetizer and main dish at least one day in advance.
If you ask us about allergies when you arrive at the restaurant, it may interfere with the flow of food to other guests, so please consult us in advance. Thank you for your consideration.
Thank you very much for your understanding!